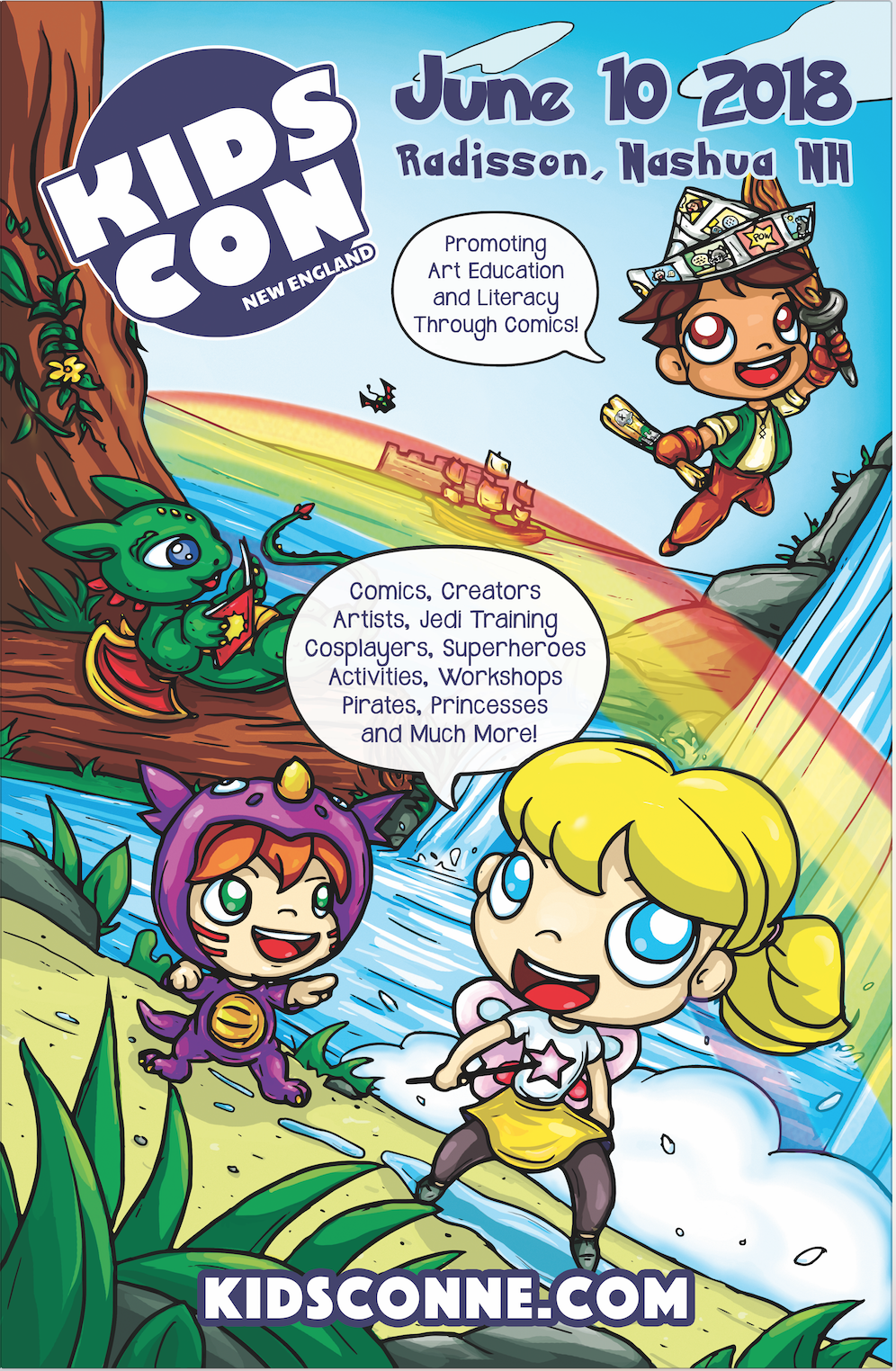 Kids Con New England® is the first and largest kids-focused comic book convention in New England! Inspiring creativity and learning through family-friendly comics, children's literature, art, fun activities, workshops, panels, gaming, and more! Meet awesome comic book creators, children's book authors, artists, learn cartooning and other creative workshops, enjoy fun activities like jedi training, pirate camp, royal academy, meet superheroes and princesses, gaming tournaments, kids sketch-off, puppet show, educational panels, and more! This is an event you don't want to miss! 😀
It started in January 2014, when comic book artist and art educator Emily Drouin felt the need for an interactive kids friendly area at comic conventions, where families can participate in cartooning workshops, hands on arts and crafts, facepainting, entertainment, meet superheroes and other costumed characters, and share her love of art and comics. Emily's first two kids con events had such a positive response and everyone had so much fun, that she was quickly asked to do other kids con events at comic conventions and fairs throughout New England, and so Kids Con New England® was born!
Check out this video recap from our 2017 event:
Kids Con New England 2017 official video! Thank you to all our awesome artists, cosplayers, staff, guests and attendees! See you again June 10, 2018 Radisson Nashua,NH! www.kidsconne.com #kidscon #kidsconne #comiccon #comics #family

Posted by Kids Con New England on Sunday, July 2, 2017
Come Join the Fun!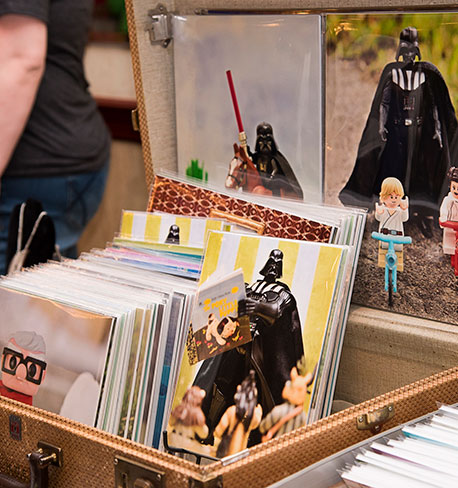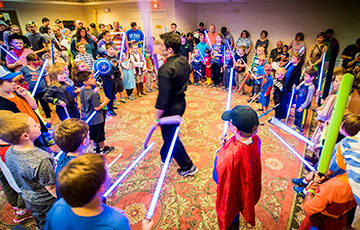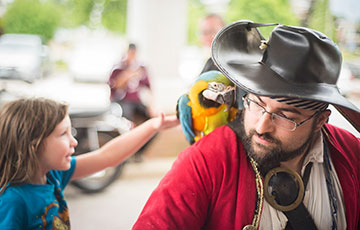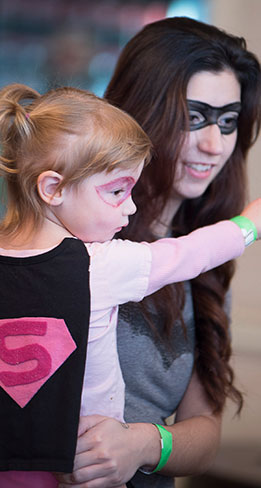 Kids Con 2018
Tons of awesome artists, activities, meet superheroes, sing & play with princesses, pirates and so much more!
Join Us!
Kids Con was a fantastic experience. The artists were cordial and engaging, the venue was helpful and accommodating, and the characters actors did a fantastic job. The Jedi Training in particular was done with aplomb. Great event!
- Parent at Kids Con New England, 2017
Just wanted to reach out and thank the Kids Con for such a fun event. The environment was warm and friendly and you couldn't ask for nicer families. All the kids rocked the ``Jedi Training``.
- Parent at Kids Con New England, 2017
Kids con is amazing! This was our second year and we can't wait to go back. Perfect for kids of all ages.
- Parent at Kids Con New England, 2017
Kids Con was truly a joy! There were activities for my son who is 9 and for me. There were also items for sale that ranged from art all the way to science. The events offered were upbeat and I learned something everywhere we went. The Jedi training, Pirates Cove, and Pokémon tournament were our favorite and kept us engaged and bouncing all over. My son and I definitely want to come back next year!
- Parent at Kids Con New England 2017
My 8 year old and 6 year old had a fantastic time at Kids Con! There were so many workshops and fun activities for them. It was a great way to introduce them to the fun of a comic con, but in a just-for-kids format. They are already looking forward to next year!
- Parent at Kids Con New England, 2017
Kids Con is one of those rare events that has something for everyone! Children (and adults) of all ages can find something entertaining and educational to do at Kids Con! The character performers were all spot-on and really interacted and talked to each child as if they were the star of the day! The event hosted a variety of panels and activities, including interactive story-times with their favorite princesses and a Jedi training class with lightsaber training! Kids even got to be part of an instructional class on creating your own animated character! Lots of fun and we will definitely bring the kids back! Looking forward to the next event!
- Parent at Kids Con New England, 2017
By far one of my favorite cons in new England! I love that it is centered around kids. Everyone that works and volunteers there is friendly and puts the kids first.
- Parent at Kids Con New England, 2017
Kids Con New England was a great family friendly event. My daughter and I had a great time learning about the artistry of creating comics and met a number of up and coming comic book artists! We'll be back next year!
- Parent at Kids Con New England, 2017
Loved it! We had a great time as a vendor! They took great care of us, tons of customers and lots of happy people! Can't wait for next year! To infinity and beyond!
- Vendor at Kids Con New England, 2017
As a family, we are new to the ``Cons``. My children have become big into the characters, and my daughter has become a happy reader. Comics seems to excite her because of both the writing and the drawing. The stories, the pictures, all takes us to new worlds. The best part of Kids Con, is it comes to life. You meet the creators, and it becomes real. Then that ignites a fire of possibility. We have come to love the comic family and supporting the comic community. Keep up the great work.
- Parent at Kids Con New England, 2017
Very well done! My 3 daughters had an awesome time and they were still talking about it at bed time. The vendors were all appropriate and engaging. The drawing activities were very cool and the kids loved Jedi training. The kids kept talking about how funny he was and it was great for them to get the energy out.
- Parent at Kids Con New England, 2016
Thank you for a fantastically fun day! My kids (boy age 8 and girl almost 4) loved everything. There's something for all age groups: princess academy, Q&A with superheroes (my 8-year-old son loved that!!), tons of vendors and characters of all kinds. The event venue was great too - with kid-friendly and inexpensive food options as well. We can't wait for next year!!
- Parent at Kids Con New England, 2017
Our kids were thrilled with all there was to do, and they loved the characters who were so friendly to them. Thank you for a great day!
- Parent at Kids Con New England, 2016
We had a great time today! The kids had a lot of fun, and enjoyed all the drawing, coloring comic pages, and Star Wars (lightsaber fights, and R2D2). The artists and creators that you picked to be on artist alley were spectacular.
- Parent at Kids Con New England, 2016
Kids Con is awesome!! It's hard to raise good nerds if you take them to a con and there is no place for them! We love Kids Con!
- Parent at Kids Con at Granite State Comic Con 2015