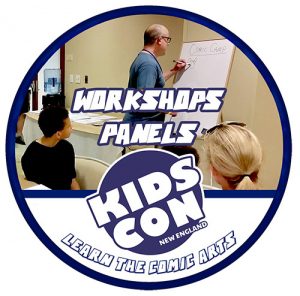 Workshops:
Learn to Draw Imaginary Creatures – Presenters: Gina Perry, Jennifer E. Morris. Learn how to draw mythical and imaginary creatures! (For ages 5+)
Cartooning Basics and Character Creation – Presenters: Ky Betts and Dan Moynihan. Bring your sketchbooks! Learn to design your very own cartoon character! We'll help you generate ideas for your own character, compose your character using basic shapes, and help you get the most out of your cartoon by using exaggeration. (For ages 5+)
Mask Making – Presenter: Jacklyn Therrien –  Create a fun comic book character mask using stencils or create your own unique character using your imagination! Makes a fun addition to your cosplay costume! (For all ages)
The Art of Comic Book Making – Presenter: Chris Watkins – Making comics is fun, and maybe easier than you think! In this workshop, you'll learn how to make a staple-free minicomic and pick up some tips on how to tell great stories with pictures. (For ages 5+)
Build a Lightsaber – Presenter: Jeremy Drouin – Build your own light saber and hilt. (Kyber crystals not included) (For ages 5+)
Create a Rose – Presenter: Willow Taylor – Learn to create a rose out of fabric. You can present it to the Beast for a fun photo opportunity! (For ages 5+)
Build a Millennium Falcon – Presenter: Emily Drouin – "She's the fastest ship in the fleet, made the Kessel Run in less than twelve parsecs!" Create your own Millennium Falcon craft replica. (For ages 5+)
Create a Superhero – Presenter: Forrest Helvie – Have you ever wanted to tell your own superhero origin story? Come and create your own in this fun workshop. We'll bring the crayons, you bring the imagination! (For ages 5+)
---
All workshops and panels are free, included with paid admission to the event. Programming is subject to change.
Do you have a fun idea and would you like to participate in a workshop or panel? 😀