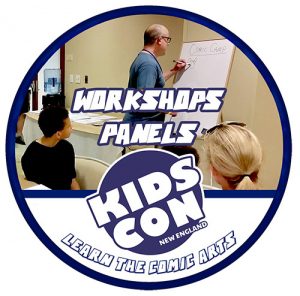 Workshops:
Amherst Workshop Room:
---
Hollis Workshop Room:
10:30 – 11:30 – Mask Making – Presenter: Jacklyn Therrien –  Create a fun comic book character mask using stencils or create your own unique character using your imagination! Makes a fun addition to your cosplay costume! (For all ages)
12:00 – 12:45 – Create a Rose – Presenter: Willow Taylor – Learn to create a rose out of fabric. You can present it to the Beauty & the Beast for a fun photo opportunity! (For ages 5+)
1:00 – 1:30 – Coloring Contest – Presenter: Emily Drouin – Show off your coloring skills & win fun prizes! (For all ages)
2:00 – 2:45 – Build a Lightsaber -Presenter: Jacklyn Therrien – Build your own light saber and hilt. (Kyber crystals not included) (For ages 4+)
3:00 – 3:45 – Zentangle – Presenter: Sandy Steen Bartholomew – Zentangle is both a fun romp through pattern play and an inspiring art lesson. (For all ages)
Panels:
Chesterfield Panel Room:
11:00 – 11:45 – Creating Comics – Presenters: Jesse DuRona, Jesse Lundberg, Ed Smith – Just how do you go from an idea in your head to a fully-realized comic? Learn about the art of storytelling in comics, advice for collaborating with a team, and what it takes to create a comic from start to finish. (For ages 8+)
1:00 – 1:45 – Ask a Superhero, Superheroes Meet & Greets – Presenters: The Hero Army, Cosplay for a Cause – Here's your chance to meet superheroes, learn about them, and ask them questions! Meet Iron Man, Spiderman, Deadpool, Wonder Woman, and many more! Great photo opportunities and get autographs! (For all ages)
2:00 – 2:45 – Creating a Successful Children's Book Brand – Presenters:  Jannie Ho, Josh Alves, Dani Jones – Interested in becoming a children's book author or illustrator? Learn how to tell an engaging story visually and narratively for young readers and advice on how to create a successful children's book. (For ages 8+)
3:00 – 3:45 – Ways to Get into the Comic Book Industry – Presenters: Nicky Soh, Tyler James, Norm Feuti, Dan Thompson – Are you an aspiring artist or author interested in getting published and working for "the big leagues" such as Marvel, IDW, Scholastic, Image, ect.? We'll talk about ways to get noticed and opening doors for you into the industry. (For ages 10+)
4:00 – 4:45 – Kids Sketch-Off – Kids Vs Kids and Kids Vs Adults – Battle to win the title of Sketch-off Champion! Win Prizes! (For all ages)
---
All workshops and panels are free, included with paid admission to the event. Programming is subject to change.
Do you have a fun idea and would you like to participate in a workshop or panel? 😀